Finding the perfect place to raise a family is a significant decision and the Minneapolis-St. Paul area offers a plethora of fantastic suburban options. Niche's recently published article on the "2023 Best Suburbs to Raise a Family in the Minneapolis-St. Paul Area" is a valuable resource for families looking to make an informed choice. Let's take a closer look at the top suburbs that made the list, starting with the number one spot, Medina, and then moving through to number 10. Each of these suburbs offers its own unique blend of attractions and amenities for families.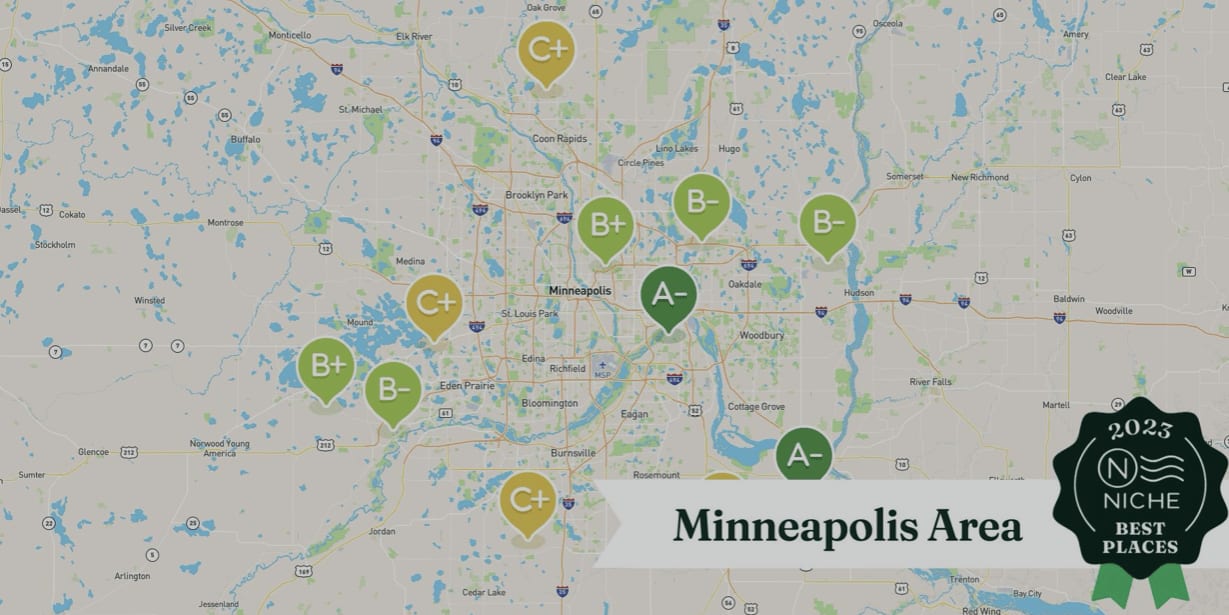 1. Medina: The Quintessential Family Oasis
Medina, with its population of 6,654, is a suburban paradise nestled in Hennepin County. It's been crowned the number one suburb in the Minneapolis-St. Paul Area for 2023. This small but thriving community offers a sparse suburban feel and boasts a high rate of homeownership, indicating a strong sense of commitment among its residents. Family-friendly amenities include a plethora of coffee shops and parks, perfect for quality family time. Medina's conservative values ensure that it's a nurturing environment for children, and its highly-rated public schools offer an excellent education.
2. Shoreview: Where Community Thrives
Shoreview, with a population of 26,871, is the second-best suburb for families in the area. Located in Ramsey County, Shoreview offers a dense suburban feel and a strong culture of homeownership. Parks are a highlight, providing recreational opportunities for residents of all ages. It's a community where many young professionals reside, and moderate political views create a balanced atmosphere. Public schools in Shoreview are highly rated, ensuring a quality education for the little ones.
3. Shorewood: A Rural Retreat
Shorewood, located in Hennepin County, stands as the third-best suburb in the Minneapolis-St. Paul Area. With a population of 7,779, Shorewood offers a rural feel and a strong tradition of homeownership. The abundance of parks makes it an ideal location for nature lovers. The conservative values held by its residents create a sense of security and community. As in other top suburbs, the public schools are highly rated, emphasizing the importance of education for families.
4. Deephaven: A Small Town Gem
Deephaven, another Hennepin County suburb, with a population of 3,878, holds the fourth spot on the list. Offering a rural ambiance and a high rate of homeownership, Deephaven is an inviting community for families. Residents enjoy coffee shops and parks that provide the perfect backdrop for leisure and socializing. Conservative values are prevalent in this peaceful town, and public schools continue to excel in providing a top-notch education for students.
5. Plymouth: A Blend of Urban and Suburban
Plymouth, a town with a population of 80,034 in Hennepin County, ranks fifth on the list. It offers an urban suburban mix feel and, like many other top suburbs, boasts a high rate of homeownership. Coffee shops and parks are in abundance, catering to the diverse needs of residents. Plymouth is a hub for both families and young professionals, fostering a balanced community with moderate political views. The public schools in Plymouth are highly rated, ensuring children receive a quality education.
6. Chanhassen: A Serene Community
Chanhassen, with a population of 25,646 in Carver County, is the sixth-best suburb in the Minneapolis-St. Paul Area. This serene community offers a sparse suburban feel and emphasizes homeownership. The town is rich in parks, providing plenty of space for recreational activities. Families and young professionals thrive in Chanhassen, and the conservative values held by residents create a warm and welcoming atmosphere. Public schools in Chanhassen maintain high ratings, making it a great choice for families.
9. Victoria: A Rural Haven
Victoria, situated in Carver County with a population of 10,361, ranks ninth. With its rural feel and strong homeownership culture, Victoria is a peaceful retreat for families. The numerous parks offer opportunities for outdoor enjoyment. The community tends to be conservative, reinforcing the values cherished by residents. Highly rated public schools ensure that children receive an excellent education.
10. Edina: An Urban Gem for Retirees
Closing out the top ten is Edina, a Minneapolis suburb with a population of 53,059. Edina offers an urban feel, making it a unique choice for retirees who appreciate a vibrant atmosphere. The town is replete with restaurants, coffee shops, and parks. Although retirees form a significant part of the population, conservative values are still central to the community. The public schools in Edina maintain their high standards, making it an excellent place for families as well.
The Minneapolis-St. Paul area boasts a wide array of exceptional suburbs, each with its own distinct appeal. Niche's 2023 rankings offer valuable insights for families seeking the perfect place to raise their children. Whether you're drawn to the small-town charm of Medina, the parks of Shoreview, the rural tranquility of Shorewood, or the urban vibrancy of Edina, you're sure to find a suburb that aligns with your family's values and lifestyle. These suburbs offer not only the promise of an excellent education but also the nurturing environments that make childhood memorable and families thrive.