As the air turns crisp and the leaves start their vibrant transformation, there's no better place to experience the enchantment of autumn than Duluth, Minnesota. Nestled on the shores of Lake Superior, this charming city is a true gem of the Midwest. From its stunning natural beauty to its rich history and a plethora of fall activities, Duluth has something for everyone. In this blog, we'll explore what makes Duluth an incredible destination during the fall season.
1. The Magic of Fall Foliage
Fall is a time of transformation, and in Duluth, the transformation is nothing short of magical. The city's lush greenery is bathed in rich hues of red, orange, and yellow as the leaves change color. The hillside neighborhoods offer panoramic views of Lake Superior and the surrounding forests, creating a picturesque backdrop for your autumn adventures.
2. Breathtaking Lake Superior
Lake Superior, the largest of the Great Lakes, graces Duluth with its breathtaking presence. In the fall, the lake's deep blue waters contrast beautifully with the warm colors of the foliage. A stroll along the lakefront, with its crisp breeze and the distant sound of seagulls, is an unforgettable experience.
3. History and Culture
Duluth is a city with a rich history, and its cultural heritage shines through its well-preserved landmarks and museums. The Duluth Aerial Lift Bridge, originally built in 1905, is a testament to the city's maritime past and is a must-see attraction. Meanwhile, the Glensheen Mansion, a historic mansion nestled on the shores of Lake Superior, offers a glimpse into the opulent lifestyle of the Congdon family.
4. Fall Activities Galore
The fall season in Duluth is a hub of activities that cater to all ages and interests. Whether you're a nature lover, an adventure enthusiast, or simply looking for family-friendly fun, Duluth has something to offer.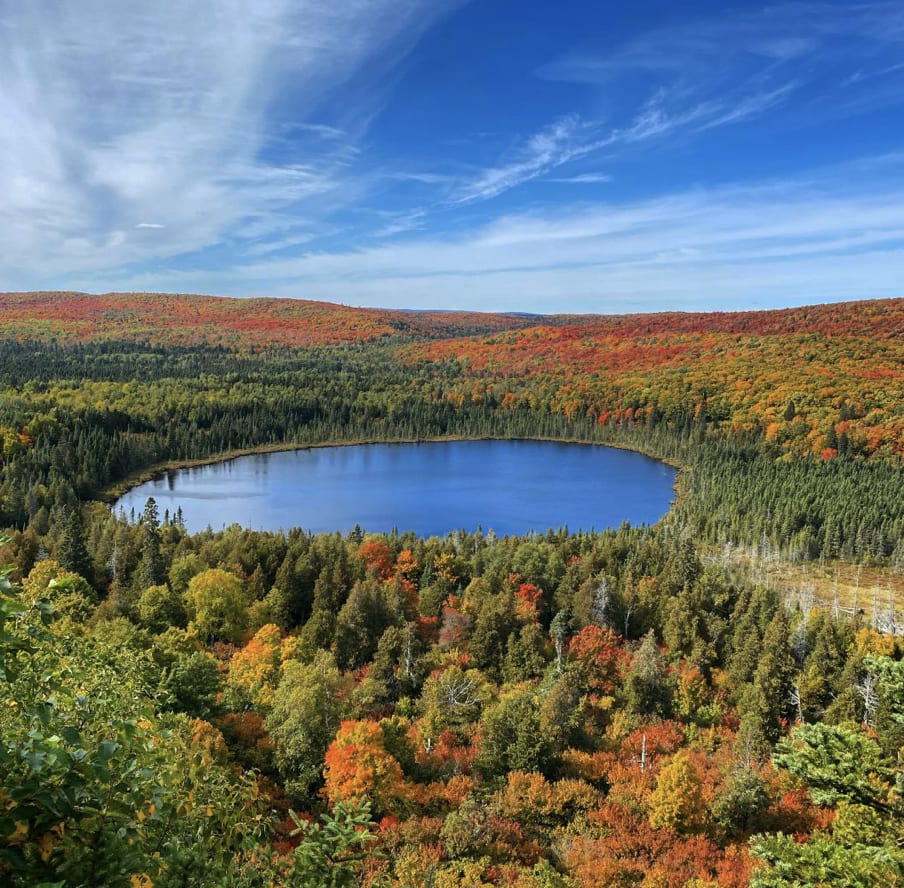 Hiking and Trails: Duluth boasts an extensive network of hiking and biking trails that wind through lush forests, offering spectacular views. The Superior Hiking Trail is a favorite among outdoor enthusiasts, featuring rugged terrain and scenic overlooks.

Renovations and Rejuvenation: Duluth continues to grow and evolve. The Lincoln Park Craft District, once a neighborhood in need of revitalization, now hosts a vibrant array of shops, breweries, and restaurants. It's the perfect place to unwind after a day of exploration.

Outdoor Adventures: With Lake Superior at its doorstep, Duluth provides numerous opportunities for water-based activities, including kayaking, paddleboarding, and sailing. And, as winter approaches, it becomes a hub for snow sports like skiing and snowmobiling.
5. Culinary Delights
Duluth's culinary scene is a delightful blend of traditional Midwestern fare and international flavors. Fresh, locally sourced ingredients are used to create exquisite dishes that cater to diverse tastes. From cozy cafes to upscale restaurants, there's something for every palate. Don't forget to try local specialties like wild rice soup and smoked fish.
6. A Paradise for Outdoor Enthusiasts
The fall season in Duluth is a paradise for outdoor enthusiasts. The city's vast parks, nature reserves, and the rugged terrain of Lake Superior's North Shore provide an ideal backdrop for all your adventures. Whether hiking, biking, camping, or fishing, you'll find plenty of opportunities to immerse yourself in the region's natural beauty.
Duluth, Minnesota, truly comes alive in the fall season. With its stunning fall foliage, rich history, vibrant culture, a wide range of fall activities, and delicious culinary offerings, it's a destination that has something for everyone. Whether you're a nature lover, a history buff, or someone seeking outdoor adventure, Duluth's unique charm and beauty will captivate your heart. So, pack your bags and go to Duluth to experience the incredible transformation of autumn in this enchanting city.