At the Cari Ann Carter Group, we take immense pride in our extensive network of seasoned vendors and top-notch services. With our exclusive relationships, there's no home challenge we can't tackle head-on. Whether you're a homeowner preparing to sell, a buyer seeking perfection in a new home, or simply looking to transform your current space into your dream home, we are here to assist you every step of the way.
Preparing your property for the market can be a daunting task, but fret not! Our team is equipped with the knowledge and expertise to guide you through the entire process. From staging advice to professional home improvement recommendations, we'll help you showcase your home's true potential, attracting potential buyers and maximizing your selling potential.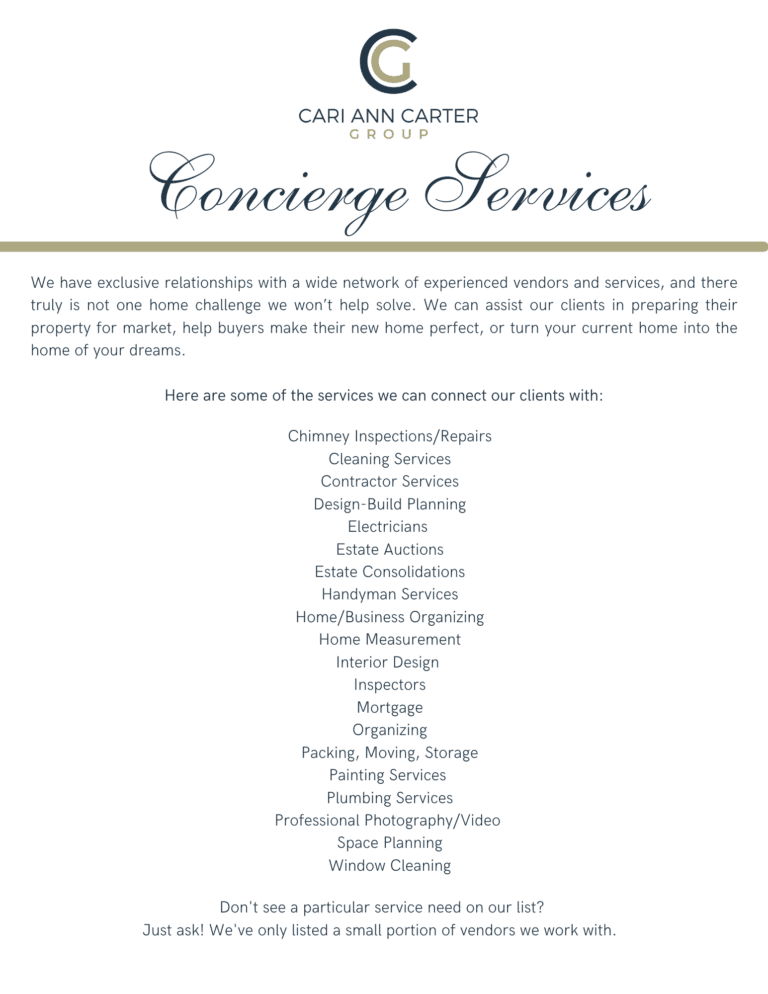 For those embarking on the exciting journey of finding a new home, we understand the importance of discovering the perfect fit. Our dedicated team of experts will work tirelessly to understand your preferences and requirements, ensuring that every detail is considered. Whether it's scouting for the ideal neighborhood, conducting thorough inspections, or negotiating the best deal, we'll be by your side, making your dream home a reality.
And if you already own a home that needs a touch of magic, we've got you covered. Our comprehensive range of services includes transforming your current space into a haven that reflects your unique style and aspirations. With our network of trusted contractors, interior designers, and craftsmen, we'll help you reimagine your home, delivering breathtaking results that surpass your expectations.
The Cari Ann Carter Group is more than just a real estate agency. We are your partners in overcoming any home challenge you may face. With our unwavering commitment to excellence and personalized approach, you can trust us to deliver exceptional results and turn your housing dreams into tangible realities. Contact us today and let us embark on this exciting journey together.
XOXO- CACG