Welcome to 9334 Gander Lane, an exquisite gem nestled in the highly sought-after Hunters Crest community. If you've been searching for your perfect dream home, look no further. This custom-built colonial residence, brought to you by the prestigious Cari Ann Carter Group, is a testament to high-quality craftsmanship and luxurious living.
One of the first things you'll notice as you approach the property is the breathtaking setting. With its captivating east-facing views of a picturesque pond, this home provides a tranquil escape from the hustle and bustle of everyday life. Imagine waking up to the serene water views every morning; it's truly a sight to behold.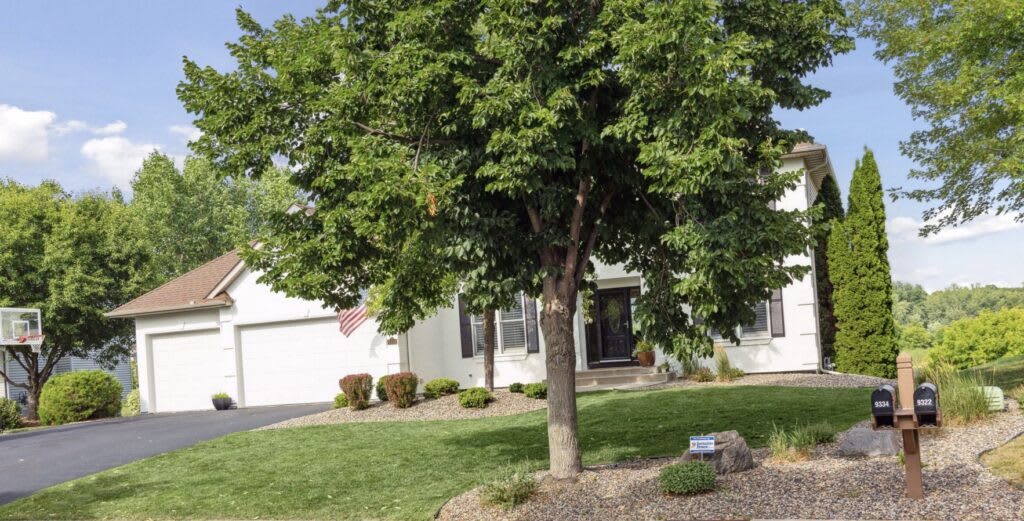 Step inside, and you'll immediately fall in love with the open floor plan and the abundance of natural light that floods the space, creating an inviting ambiance throughout. Designed with entertainment in mind, this home is perfect for hosting gatherings and making memories with family and friends.
Carefully crafted to maximize the enchanting water views, every room in this house has been thoughtfully designed. On the main level, you'll be greeted by not one, but two spacious living rooms. These areas offer ample space for relaxation and socializing, making it easy to find your own private nook or entertain a large group of guests with ease.
The master suite is a true retreat within the home, offering an adjoining bath complete with a luxurious soaking tub. After a long day, immerse yourself in relaxation and let the worries of the day melt away in this sumptuous haven.
As you venture outside, you'll discover the expansive deck, beckoning you to step out and soak in the peacefulness that surrounds you. Whether you're sipping your morning coffee or unwinding with a glass of wine in the evening, this outdoor oasis is the perfect spot to take in the beauty of nature.
But that's not all – the lower level of the home underwent a stunning renovation in 2020, bringing it to the pinnacle of modern style and convenience. A stylish wet bar, adorned with high-end lighting and new countertops, awaits your use. Picture gathering around this chic setting with friends, enjoying laughter and camaraderie over your favorite drinks.
And for those cozy nights in, the modern fireplace provides the perfect setting to snuggle up with a book or watch your favorite movie. This space is both inviting and stylish, making it a favorite spot for relaxation during colder evenings.
As you explore further, you'll find an exercise room – perfect for maintaining your active lifestyle without leaving the comfort of your home. Additionally, there's a guest bedroom to accommodate visitors, ensuring they have a comfortable and welcoming place to stay.
But that's not all – a convenient walk-out adds even more to this remarkable home. It allows easy access to the beautiful outdoors and adds an extra touch of convenience to your daily life.
The 9334 Gander Lane residence truly offers a unique combination of elegance, functionality, and natural beauty. With the Cari Ann Carter Group's commitment to excellence, this home is not just a house; it's a lifestyle. If you've been dreaming of a home that exudes charm, sophistication, and serenity, this is the one you've been waiting for.
So, what are you waiting for? Schedule a tour and experience the wonder of 9334 Gander Lane for yourself. Your dream home awaits, and the opportunity to make it yours is now within reach. Welcome to a life of luxury, comfort, and timeless beauty.
XOXO- CACG